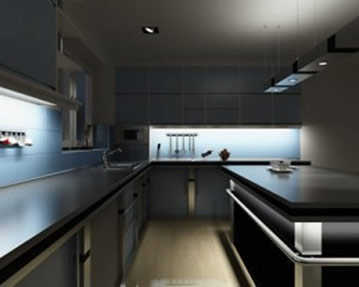 Image Courtesy of ledlightingfactory.com
Many homeowners are looking for ways to increase the value of their homes. As a result, several families are considering DIY projects to upgrade their homes. One commonly remodeled space is the kitchen. Day in and day out, kitchens are remodeled by replacing tile, backsplash, and maybe even adding a kitchen island. Why not think outside the box and add a unique form of lighting to your kitchen?
Many kitchens use traditional overhead or track lighting. Create a unique feel to your kitchen with under cabinet LED lighting. Adding under cabinet lighting will surely make your home stand out.
In the past, any under cabinet lighting that was featured in homes was made possible by fluorescent light bulbs. While this type of lighting does provide a different style and feel from standard lighting, replacing the bulbs can prove difficult.
One major advantage to LED under cabinet lighting is the convenience of never having to replace a light bulb. LED lights are guaranteed to last over 40K hours. This pretty much equals a lifetime unless your light usage is off the meter!
Another advantage is the energy efficient manner in which the lights are made. LED lights are made 3 watts and as a result usually result in over 65% energy savings. Although the lights are low voltage, they provide evenly distributed light. While these lights are not harsh and bright, they will highlight the natural beauty in the color of your countertops.
LED lights are structurally very small when compared to fluorescent lights. This allows the lights to be placed strategically close to the front of the cabinet providing optimal light to perform any cooking or cleaning in kitchens. Along with being very user friendly in regard to installation, under cabinet LED lighting also has the following features:
3 level dimmer
Multiple sizes (fixtures)
Night light
Under cabinet LED lights may be a new option in the world of kitchen lighting, but it is quickly becoming a favorite. Who can resist a trendy, highly functional and energy saving options? What do you have to lose?