Contemporary Kitchen Lighting Ideas
The Importance Of Kitchen Lighting
If there's one room in the house that is almost notorious for the amount of money that people spend on kitting it out, it has to be the kitchen. And there's a good reason that so many folk spend so much money: for most of us the kitchen is the centre of household life, the very heart of the home.
The kitchen is also, almost by definition, the room that gets most utilised both during daylight hours and well into the evening, so it's clearly a space where getting the lighting right is absolutely critical. After all, why pour so much time, money and effort into getting the just right kitchen units and flooring etc only to have it all resemble a particularly dreary railway waiting room thanks to poor lighting?
Kitchen lights have evolved almost beyond recognition from the bad old days when it seemed that most every kitchen sported an obligatory fluorescent strip or several as central kitchen ceiling lighting (an especially nasty trend that is unfortunately still with us in some kitchens to this day). Nowadays you can pick from kitchen track lighting systems, recessed spots, wall lights, lights under, over and inside cabinets, retractable kitchen pendant lights and also control selected lighting elements with dimmer switches. The problem still is choice; only this time it's not lack of choice that's the issue, but almost having too much.
The Main Types Of Kitchen Lighting
Modern kitchen lighting design very much takes into account the multi-purpose nature of kitchens to produce a lighting solution that also functions on different levels. This is accomplished by first understanding the various lighting requirements of a kitchen, secondly grouping lights according to each of these requirements, and lastly combining these lighting groups in different ways to create a range of effects suitable for many purposes.
The main lighting groups for kitchens draw on much the same design principles found in regular home lighting ideas: task, ambient and mood lighting. Incidentally "mood lighting" is a term that covers aspects of what are otherwise known as feature, decorative and/or accent lighting. Also, there are no hard and fast rules about what fits into which category – some types of lighting will naturally fall into more than one camp.
Task lighting is essential for the stages involved in preparing food (the underlying purpose of a kitchen after all) while ambient light, aside from helping you avoid bashing into things in the gloom, plays an important role in supporting other lighting types.
Ambient light should provide a general all-over illumination that is fairly soft and unobtrusive. Effectively it sets a background light level that other forms of lighting use as a base. This is best illustrated by considering two extremes. In the first case an absence of ambient light would mean that other lighting would seem overly bright (against a largely dark background) yet ironically not bright enough to properly illuminate the room. In the second, over-bright ambient light would just wash out whatever other lighting was present – you simply wouldn't notice it.
Task lighting is pretty much what it sounds like; it should be directed at an area that requires ample light so you can, for example, see what you're chopping (hopefully not your fingers), cooking and eventually eating. Since performing a task is mostly synonymous with using your hands, task lighting should be in front of you (so you don't cast your own shadow onto the space) and above what you are working with, but also in such as way as to not get in your eyes or otherwise cause reflective glare.
Mood lighting is what you use to create atmosphere in a room and to give it a personality. It frequently serves little purpose other than making the space look attractive. In a kitchen this is often achieved with hanging pendant lights, carefully positioned spotlights and, since the advent of LED, accent lighting (as a general rule, you want static light fixtures that can't be knocked over or will get in the way).
Developing effective kitchen lighting ideas rests on much the same basic principle as that underpinning general interior lighting design: a good mix of lighting types (see above) plus the wherewithal to adjust the relative balance between them. This is in fact no more complicated than ensuring that each group of lights is assigned to its own switch (and preferably a dimmer switch). It can also be helpful to further sub-divide according to location (for example being able to independently control lighting for a central kitchen island, or a dining area at one end of the kitchen).
Coordinated lighting is also about matching light fittings not only to each other but ensuring that they harmonise with the other features, fittings and furniture in the room. Look at the existing decor style – is it traditional or modern? This tells you immediately whether say a classic Tiffany lamp might fit right in or look out of place.
Kitchen Island Lighting
As noted above, it can be helpful to sub-divide lighting not only by type but also according to location or zone. A key zone in most contemporary kitchens is the kitchen island. These are invariably multi-purpose areas that find themselves used for preparing food, eating at (bar stools come in handy), doing homework, somewhere to rest a laptop computer, reading the newspaper, the list goes on.
Among the most obvious benefits of a kitchen island are that it provides more working and storage space. If all your kitchen units are pushed back against the walls like agoraphobic wall flowers then this clearly limits how many you can install. Having to negotiate windows and doors can also reduce the usable wall space in even quite large kitchens.
A kitchen island can also add "depth" and interest to an otherwise uninspiring space. Many kitchens arrange all the storage cupboards and working areas around the periphery, leaving a great void in the middle. This not only looks boring, it means that the kitchen isn't properly connected if you have to cross a sea of empty floor to get from one zone to another.
Placing an island in the centre of the kitchen both utilises otherwise wasted space and makes it considerably easier to layout the classic working "triangle" – the zone that has key elements such as the sink, chopping board and hob all within ergonomic reach. There is nothing to stop you in fact setting things like cookers, sinks and hobs (in addition to extra cupboards) into the island itself if that seems a better location for them than fitted against a wall.
But most probably the number one reason for the popularity of kitchen islands is that they can really add a touch of class to a kitchen. Ironically, by filling in that dead space an island will often make the room appear much larger – similar to the effect of adding shrubs and flower beds to an expanse of lawn, or furnishing a room. It's due to an effect well known by interior and landscape designers whereby "the eyes are led" around areas of interest rather than allowing the whole space to be taken in at once.
Many people also make use of a kitchen island as a place to gather round or even as a formal dining area which can again alter the perception of the kitchen as a whole, especially when smart kitchen island lighting is added to the mix. In fact, whether you design your kitchen island as a working area, an informal bar or anything else, it provides an absolutely ideal opportunity to introduce some great lighting effects.
An island provides a superb platform for many contemporary kitchen lighting effects; as well as hanging kitchen pendant lights from the ceiling, it is possible using LED strip lights or mini spots to install plinth lighting and/or floor level lights in the toe-kick boards. Whereas such effects might seem gaudy if installed in a traditional everything-round-edges kitchen, kitchen islands are by nature centre-piece features that demand and can take a lot of attention. The example below shows a set of brightly coloured pendants that both decorate and provide task lighting over an island workspace.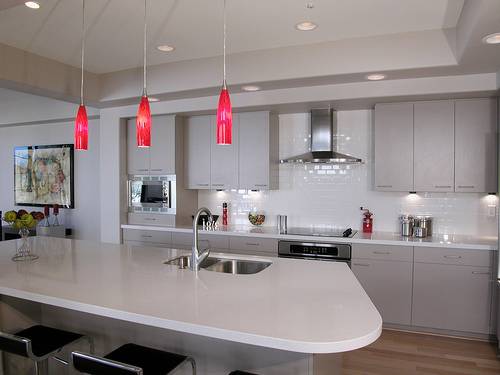 Lighting a kitchen island therefore means trying to satisfy many demands; it should complement the overall style of the kitchen yet carve out a well defined space for itself, and it needs to both decorative and functional.
A well established solution is to use pendant downlights that either hang fairly low (though not so low as to obstruct activities or bash your head) or can be adjusted vertically to allow for subtly different effects. The key tip with using pendant lighting above a kitchen island is to select the right number, size, shape and color. If the island is say long and narrow then two or three smaller kitchen pendants that echo the shape would in most cases be preferable to a single large pendant light which would suit a a more concise area.
There is however one major caveat where kitchen islands are concerned, and that is size. You can still include an island in even a fairly modest kitchen, but you absolutely must ensure that it doesn't eat into space you can't afford to lose, restrict your ability to manoeuvre or look out of place. An island should complement the rest of your kitchen, not detract from or overpower it.
But if your kitchen is large enough then honestly there are few better ways to improve both its functionality and appearance than installing an island unit. But do remember that if your intention is to use it as a breakfast bar or similar then be sure that you can tuck the stools completely away or the whole setup will eventually drive you mad.
Lighting Other Zones In The Kitchen
Choosing a suitable shape and color for a light fitting is a roundabout way of referring to "style". Bold metallic finishes and clean lines for example might jar in a traditional kitchen but would blend perfectly with the fittings in a contemporary kitchen. Another consideration is whether the shades allow some light through to illuminate the pendants themselves or only shine downwards, in which case the shape of the light pool on the surface below becomes an important factor.
Other zones suitable for lighting include the spaces between worktops (or counters) and wall units above them. These absolutely cry out for under cabinet lights for a whole variety of reasons, not the least of which is if you've gone to the trouble and expense of fitting nice countertops then why not show them off? Granite, marble and many composite materials that contain minute flakes of reflective metal look stunning when illuminated by under cabinet kitchen lighting.
Other good reasons include the fact that kitchen cabinet lights add instant dramatic effect and make a kitchen seem somehow more luxurious (for very little cost), and of course these work surfaces tend to get assigned to various tasks and thus need good lighting. It's common to find that tea or toast making facilities tend to gravitate to a particular spot on the counter for example, or the chopping board and knife block, or the place you always put things down when you come in. Think about it – when has "gloom" ever been fashionable?
In the example below, a technique commonly seen with plinth lighting has been moved down to the toe-kick (or kick-board) to both highlight the floor, increase the impression of space and suggest a "floating" appearance to the units.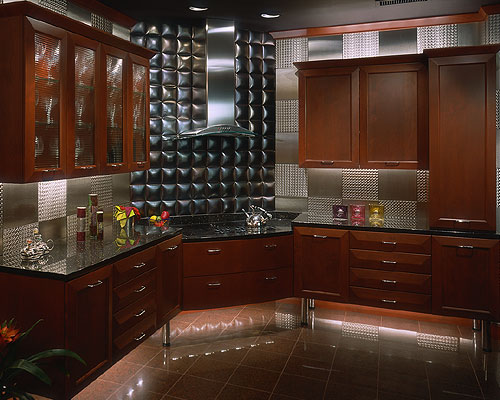 Note the ambient lighting set into the kitchen ceiling lights plus the under-cabinet task lights and up-lights above the wall cabinets. The sharp-eyed will also immediately spot that this example clearly makes extensive use of LED lights, most notably set above the reflective kick-board which both enhances the appearance of the floor and makes it seem larger. There are also LEDs above and below the wall cabinets and additionally set inside the glass fronted ones shown to the left.
The growing use of LED home lighting and in particular its application to modern kitchen lighting design is pretty much a whole new topic itself. These extraordinary little lights emit virtually no heat, cost very little to run and are extremely lightweight yet highly robust and of course highly versatile. LED lights are also equally able to deliver task, ambient or mood lighting and, as can be seen in the illustration above, add a certain crisp elegance to a space