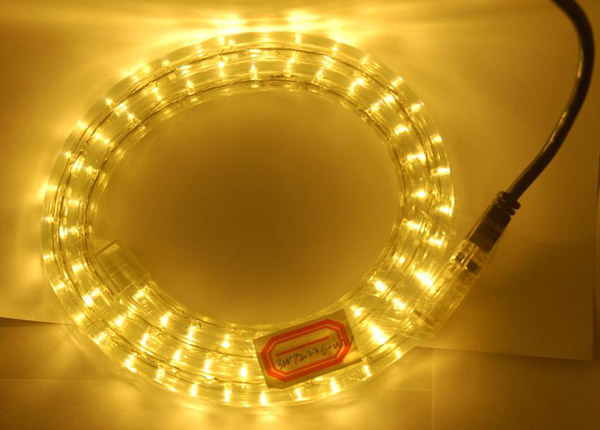 Features
●Low cost operation
●LED life is approximately 30 times longer than regular bulbs.
●Cool to touch when lit, flexible, and easy installation.
●Indoor/Outdoor use, safety fused plug for over current protection.
●End to end construction, connect up to 50ft with a mini controller, up to 900ft ●with a standard controller.
●Ready to use; just plug in to light.
●No flicker; rectifier smoothes the glow.

Model#
Size (mm)
Voltage
LEDs Space
LEDs/m
Min Cutting Unit
watts/m
Color
Max loading length
GP-2W3624B-C
Ø13mm
24V
27.7mm
36pcs
9LEDs
1.92W/m
R,Y
30m
6LEDs
2.88W/m
B,G,W
GP-2W3611B-C
Ø13mm
120V
27.7mm
36pcs
1m
2.4W/m
R,Y
200m
B,G,W
GP-2W3622B-C
Ø13mm
240V
27.7mm
36pcs
2m
4.8W/m
R,Y
300m
B,G,W
GP-3W7224B-C
11*18mm
24V
27.7mm
72pcs
9LEDs
3.84W/m
R,Y
15m
6LEDs
5.76W/m
B,G,W
GP-3W7211B-C
11*18mm
120V
27.7mm
72pcs
1m
4.8W/m
R,Y
100m
B,G,W
GP-3W7222B-C
11*18mm
240V
27.7mm
72pcs
2m
9.6W/m
R,Y
150m
B,G,W
GP-4W10824B-C
11*22mm
24V
27.7mm
108pcs
9LEDs
5.76W/m
R,Y
10m
6LEDs
8.64W/m
B,G,W
GP-4W10811B-C
11*22mm
120V
27.7mm
108pcs
1m
7.2W/m
R,Y
65m
B,G,W
GP-4W10822B-C
11*22mm
240V
27.7mm
108pcs
2m
14.4W/m
R,Y
100m
B,G,W
GP-5W14424B-C
11*28mm
24V
27.7mm
144pcs
9LEDs
7.68W/m
R,Y
6m
6LEDs
11.52W/m
B,G,W
GP-5W14411B-C
11*28mm
120V
27.7mm
144pcs
1m
9.6W/m
R,Y
50m
B,G,W
GP-5W14422B-C
11*28mm
240V
27.7mm
144pcs
2m
19.2W/m
R,Y
100m
B,G,W