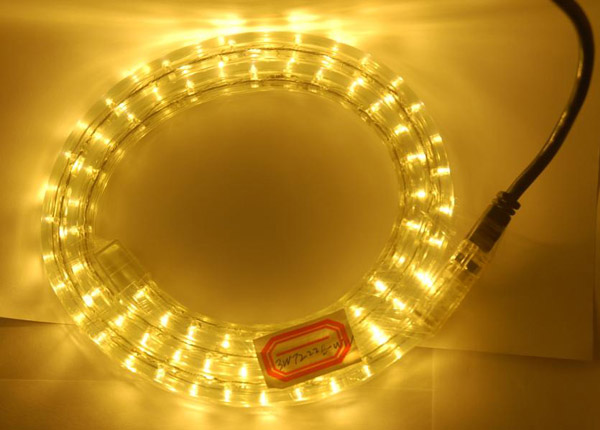 Key points to remember:
●Only cut rope lights at the predetermined scissors cutting intervals marks. Look for the cut marks on the outer tubing.
●LEDs are sensitive to polarity. As such, LED rope lights may appear to not function correctly if the polarity of the electrical current is opposite from what the LEDs are expecting.
Each 100m spool also includes the following accessories:
* 3 Power Cords with connector.
* 3 end caps.
* 3 Inline Splices
* 50 Mounting Clips.

Model#
Size (mm)
Voltage
LEDs Space
LEDs/m
Min Cutting Unit
watts/m
Color
Max loading length
GP-2W3624B-C
Ø13mm
24V
27.7mm
36pcs
9LEDs
1.92W/m
R,Y
30m
6LEDs
2.88W/m
B,G,W
GP-2W3611B-C
Ø13mm
120V
27.7mm
36pcs
1m
2.4W/m
R,Y
200m
B,G,W
GP-2W3622B-C
Ø13mm
240V
27.7mm
36pcs
2m
4.8W/m
R,Y
300m
B,G,W
GP-3W7224B-C
11*18mm
24V
27.7mm
72pcs
9LEDs
3.84W/m
R,Y
15m
6LEDs
5.76W/m
B,G,W
GP-3W7211B-C
11*18mm
120V
27.7mm
72pcs
1m
4.8W/m
R,Y
100m
B,G,W
GP-3W7222B-C
11*18mm
240V
27.7mm
72pcs
2m
9.6W/m
R,Y
150m
B,G,W
GP-4W10824B-C
11*22mm
24V
27.7mm
108pcs
9LEDs
5.76W/m
R,Y
10m
6LEDs
8.64W/m
B,G,W
GP-4W10811B-C
11*22mm
120V
27.7mm
108pcs
1m
7.2W/m
R,Y
65m
B,G,W
GP-4W10822B-C
11*22mm
240V
27.7mm
108pcs
2m
14.4W/m
R,Y
100m
B,G,W
GP-5W14424B-C
11*28mm
24V
27.7mm
144pcs
9LEDs
7.68W/m
R,Y
6m
6LEDs
11.52W/m
B,G,W
GP-5W14411B-C
11*28mm
120V
27.7mm
144pcs
1m
9.6W/m
R,Y
50m
B,G,W
GP-5W14422B-C
11*28mm
240V
27.7mm
144pcs
2m
19.2W/m
R,Y
100m
B,G,W