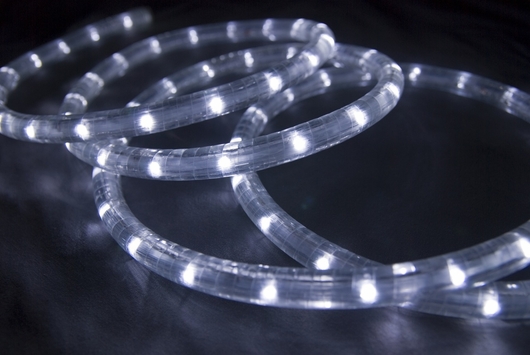 Goodpex.com specializes in energy-efficient and long lasting LED rope light--that is all we sell. Because LED rope light uses ultra efficient light emitting diode technology it is far superior to incandescent rope light. It can last for up to 50,000 hours and uses about 85% less energy. LED rope light is a versatile and durable decorative lighting product that can be used for a number of applications including interior decorating around ceilings and moldings, under cabinets, or around bars or entertainment centers. Our LED rope light is also great for outdoor applications such as roof line decorating, sculptures, pools, trees, holiday decorations, porches and similar applications.
In addition to the wide selection of 2 wire, 3 wire, and 12v low voltage LED rope light that we offer, we offer a wide selection of rope light accessories, controllers, and mounting brackets.
All LED rope light is not created equal. We have worked hard to find a quality and long lasting rope light product to offer our customers. Our rope light is backed by our 2 year product warranty.
Main features
●Ø13mm with 2-Wire Steady Burn Cool White LEDs
●110~120 and 220~240V
●Color Temperature: 5500-6000K
●Luminous Intensity: 18000-20000 mcd
●Beam Angle: 25°
●Forward Current: 20mA
●Clear Outer Tubing
●27.7mm LED Spacing
●Indoor/Outdoor
●Energy Efficient - Only consumes 0.8 watts per foot
●Cuttable every 2m
●Maximum operating length of 300M
●Lifespan of 80,000 hours
●Temperature Rating of 20 ℃ ~50 ℃
●Dimmable
●Comes pre-assembled with a power cord, power connector, and end cap
Model#
Size (mm)
Voltage
LEDs Space
LEDs/m
Min Cutting Unit
watts/m
Color
Max loading length
GP-2W3624B-C
Ø13mm
24V
27.7mm
36pcs
9LEDs
1.92W/m
R,Y
30m
6LEDs
2.88W/m
B,G,W
GP-2W3611B-C
Ø13mm
120V
27.7mm
36pcs
1m
2.4W/m
R,Y
200m
B,G,W
GP-2W3622B-C
Ø13mm
240V
27.7mm
36pcs
2m
4.8W/m
R,Y
300m
B,G,W
GP-3W7224B-C
11*18mm
24V
27.7mm
72pcs
9LEDs
3.84W/m
R,Y
15m
6LEDs
5.76W/m
B,G,W
GP-3W7211B-C
11*18mm
120V
27.7mm
72pcs
1m
4.8W/m
R,Y
100m
B,G,W
GP-3W7222B-C
11*18mm
240V
27.7mm
72pcs
2m
9.6W/m
R,Y
150m
B,G,W
GP-4W10824B-C
11*22mm
24V
27.7mm
108pcs
9LEDs
5.76W/m
R,Y
10m
6LEDs
8.64W/m
B,G,W
GP-4W10811B-C
11*22mm
120V
27.7mm
108pcs
1m
7.2W/m
R,Y
65m
B,G,W
GP-4W10822B-C
11*22mm
240V
27.7mm
108pcs
2m
14.4W/m
R,Y
100m
B,G,W
GP-5W14424B-C
11*28mm
24V
27.7mm
144pcs
9LEDs
7.68W/m
R,Y
6m
6LEDs
11.52W/m
B,G,W
GP-5W14411B-C
11*28mm
120V
27.7mm
144pcs
1m
9.6W/m
R,Y
50m
B,G,W
GP-5W14422B-C
11*28mm
240V
27.7mm
144pcs
2m
19.2W/m
R,Y
100m
B,G,W