Practical use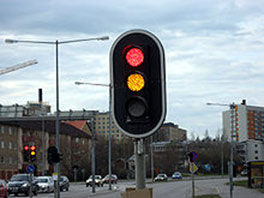 Red, yellow and green (unlit) LEDs used in a traffic signal in Sweden.
The first commercial LEDs were commonly used as replacements for incandescent and neon indicator lamps, and in seven-segment displays,[19] first in expensive equipment such as laboratory and electronics test equipment, then later in such appliances as TVs, radios, telephones, calculators, and even watches (see list of signal applications). These red LEDs were bright enough only for use as indicators, as the light output was not enough to illuminate an area. Readouts in calculators were so small that plastic lenses were built over each digit to make them legible. Later, other colors became widely available and also appeared in appliances and equipment. As the LED materials technology became more advanced, the light output was increased, while maintaining the efficiency and the reliability to an acceptable level. The invention and development of the high power white light LED led to use for illumination(see list of illumination applications). Most LEDs were made in the very common 5 mm T1¾ and 3 mm T1 packages, but with increasing power output, it has become increasingly necessary to shed excess heat in order to maintain reliability,so more complex packages have been adapted for efficient heat dissipation. Packages for state-of-the-art high power LEDs bear little resemblance to early LEDs.
Illustration of Haitz's Law. Light output per LED as a function of production year, note the logarithmic scale on the vertical axis.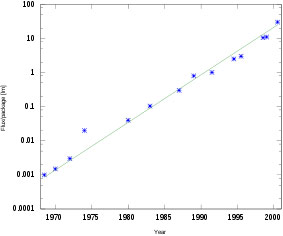 Continuing development
The first high-brightness blue LED was demonstrated by Shuji Nakamura of Nichia Corporation and was based on InGaN borrowing on critical developments in GaN nucleation on sapphire substrates and the demonstration of p-type doping of GaN which were developed by Isamu Akasaki and H. Amano in Nagoya. In 1995, Alberto Barbieri at the Cardiff University Laboratory (GB) investigated the efficiency and reliability of high-brightness LEDs and demonstrated a very impressive result by using a transparent contact made of indium tin oxide (ITO) on (AlGaInP/GaAs) LED. The existence of blue LEDs and high efficiency LEDs quickly led to the development of the first white LED, which employed a Y3Al5O12:Ce, or "YAG", phosphor coating to mix yellow (down-converted) light with blue to produce light that appears white. Nakamura was awarded the 2006 Millennium Technology Prize for his invention.
The development of LED technology has caused their efficiency and light output to increase exponentially, with a doubling occurring about every 36 months since the 1960s, in a way similar to Moore's law. The advances are generally attributed to the parallel development of other semiconductor technologies and advances in optics and material science. This trend is normally called Haitz's Law after Dr. Roland Haitz.
In February 2008, Bilkent university in Turkey reported 300 lumens of visible light per watt luminous efficacy (not per electrical watt) and warm light by using nanocrystals.
In January 2009, researchers from Cambridge University reported a process for growing gallium nitride (GaN) LEDs on silicon. Production costs could be reduced by 90% using six-inch silicon wafers instead of two-inch sapphire wafers. The team was led by Colin Humphreys